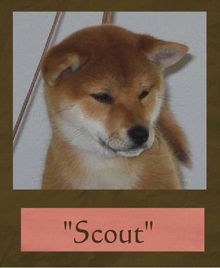 The NATIONAL SHIBA CLUB of AMERICA's annual specialty weekend, Oklahoma City, Ok, 2012
Scout goes WINNERS BITCH from an action packed Bred-by class for a 5pt major to finish her AKC Championship. She then goes on the BEST of WINNERS, this is an amazingly huge honor! I am very proud of this little girl.
Scout moves up to the champion class at the National Shiba Specialty. Scout takes Select Bitch among many top ranked female specials. Scout earned her first Grand Champion 5pt major against champion competition.
The next day at the Parent Shiba Specialty. Scout again takes Select Bitch against top ranked female specials. Scout earned her second Grand Champion 5pt major.
All this BREEDER/OWNER handled the whole way.
All in all, Scout finishes her championship in 3 weekends of showing with all majors. The first weekend she earns a 4pt major, the second weekend she earns back to back 4pt majors and finally the icing on the cake she earns a 5pt major the National weekend competing against a heavy weight of competition. She has always been my little star and she now has proven herself to everyone.

SCOUT WINS BEST OF BREED AT THE MID-STATES SHIBA INU REGIONAL SPECIALTY!!!!!!

On May 9th, 2015 at the regional Shiba Specialty in Topeka, Ks, Scout is awareded Best of Breed earning the title of BISS (Best In Specialty Show). Thank you Judge Grace Fritz for recognizing Scouts outstanding qualities among the other champion entries. Grace Fritz then went on to award Scout a Group Second in the Non-Sporting Group. Ms. Fritz told me Scout was the first shiba she has ever given a group placement to. I am honored and proud of my little champion.

SCOUT IS CURRENTLY THE #2 SHIBA INU IN THE USA

AS WELL AS #1 SHIBA FEMALE

Scout has had a very successful 2015 thus far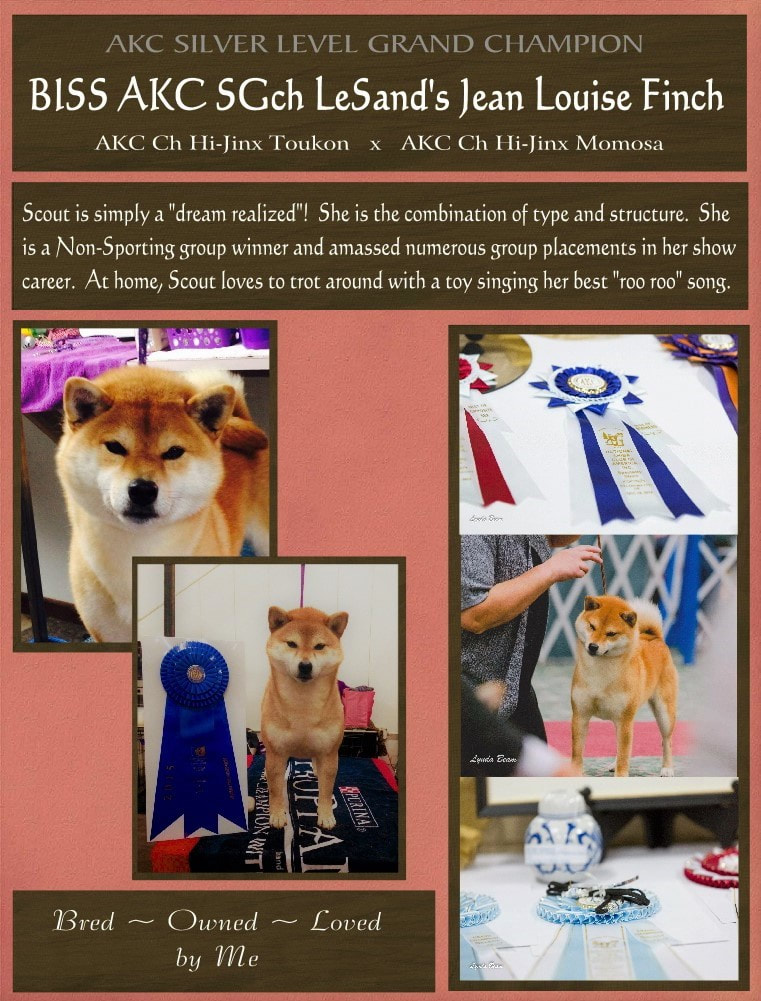 E-News - Ad from the Summer 2011 Issue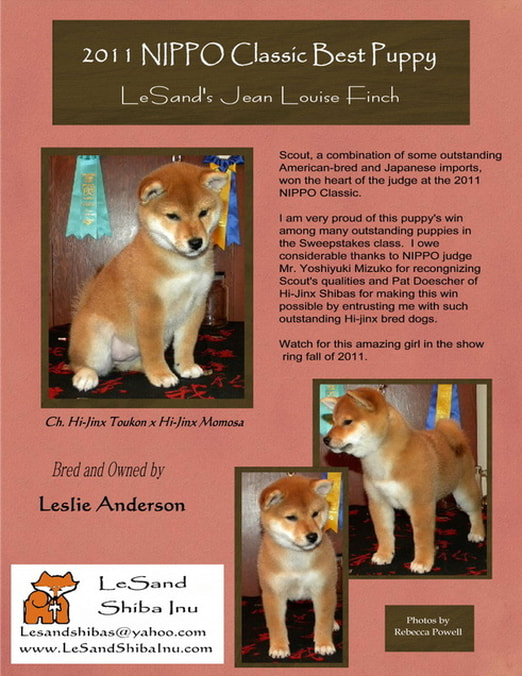 Scout Photo Credit - Shoei Shiba Rebecca Powell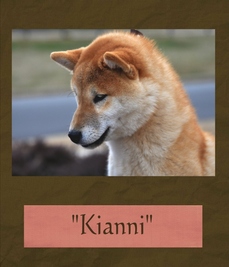 February 2014

Kianni finished her AKC Championship in Denver, Colorado this spring by taking a 5pt major the first day of this 4 day show. Kianni is then moved into the champion class where she is awarded Select Bitch two days in a row for two Grand Champion 5pt majors over champion competition. On the final day of the show Kianni is awarded Best Of Breed over top ranked specials in turn giving her the final needed major with defeating champion competition for another 5pt major. At the end of this show Kianni only needs 10 single points to earn her Grand Championship.


April 2014

Kianni finishes her Grand Championship in Perry, Georgia by taking back to back Select Bitch for two 5pt majors. Kianni destroys the requirements for her AKC Grand Championship by taking 5 consecutive 5pt majors, this is the FASTEST you can complete this title!!!! I am so proud of my little girl.
Kianni was also awarded Best Opposite Sex at the regional Shiba Inu specialty hosted by Heart of Dixie Shiba Club on Sunday. Kianni adds the prestigious honor of being a specialty show winner.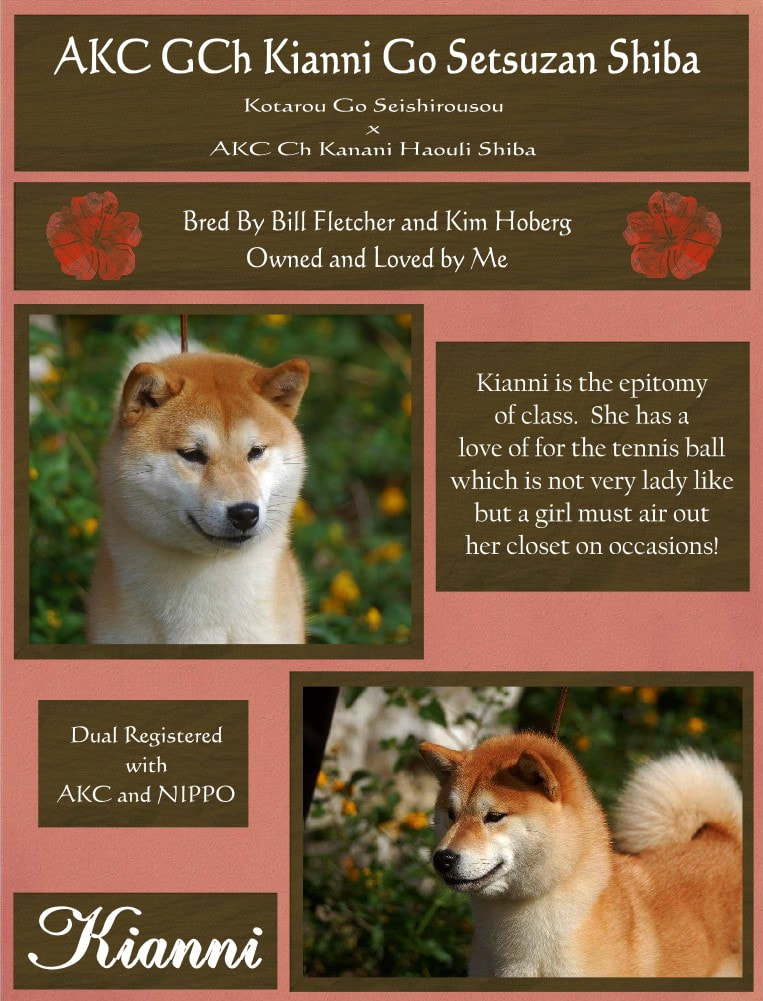 Kianni Photo Credit - Kuro Oka Shiba Bill Fletcher

Maybelline starts her show career at the ripe age of 6mo. I debut her at the regional Shiba Inu specialty hosted by Mid-States Shiba Club in Topeka, Kansas May 9th, 2015. She comes out of the ring with a BANG!!! She takes Winners Bitch for a 5pt major then goes on to Best of Winners and nearly beats Scout for breed. Who would have suspected, lol. The next day she returns to the ring and again goes Winners Bitch and Best of Winners for another 5pt major over some amazingly stiff competition. So her first weekend out she needs only 5 single points to become an AKC Champion. Wow!

On that following day the judge pulled Scout and Maybelline out to consider for Best of Breed. The judge had us stack both girls on the table side by side then made us gait two laps around the ring. He looked at me and said Scout only wins because of maturity otherwise he was going to her for Breed, amazing little girl this Maybelline is. Her new nickname after that weekend is MaybelQueen!

Maybelline finishes her AKC Championship going Best of Breed from the classes over a very nice male special. She then goes on to an NOHS Non-Sporting Group 2!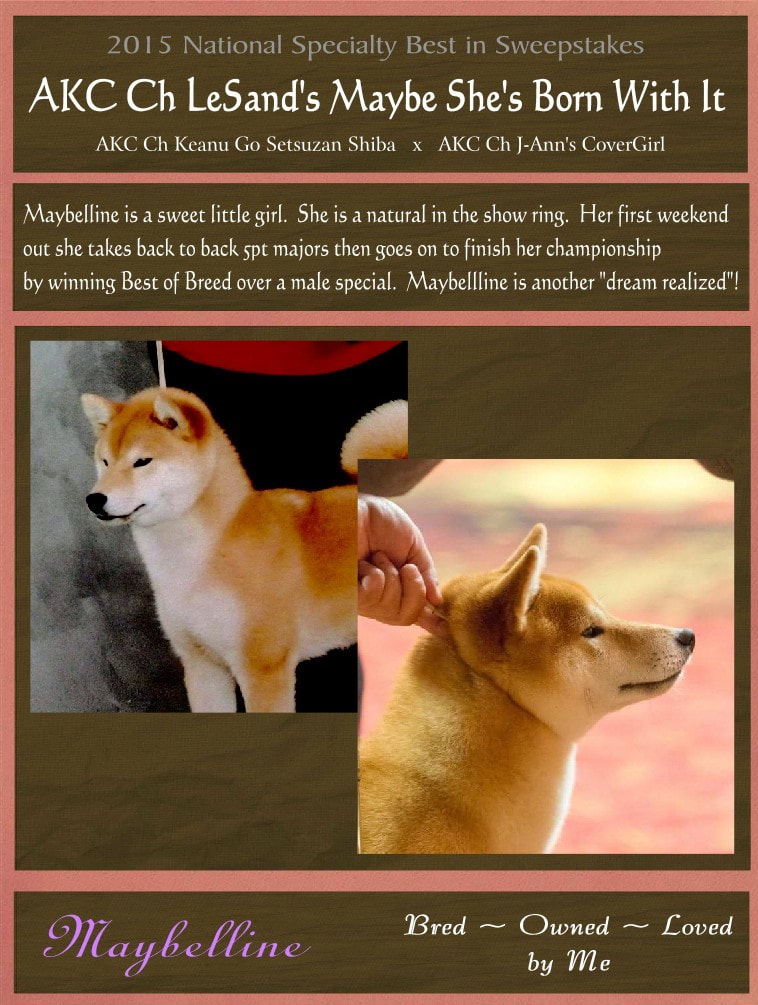 E-News - Ad from the Winter 2015 Issue