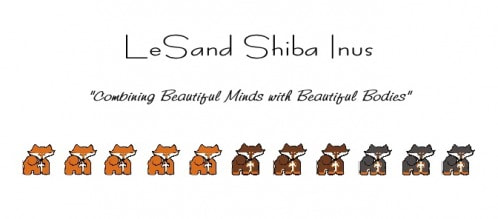 What questions should you be asking, how do you know who is and who is not what they seem?
Having my website online and knowing many others who's sites are online, I can help you sort through what is important.
1) Does the breeder belong to the breed's national breed club?
Wondering why this is important? To start with, getting into the breed club takes some effort. You must be sponsored by two members in good standing and you must be approved by all club members. They look at what your intentions and commitment level with the breed. They look at your background and what you have done in the breed thus far. The eithics of the National Shibas club of America forbids their members from selling to broker, high volume breeders and/or pet stores. If the member fails to comply with the standards then they are barred from the club.
2) Does the breeder breed to the standard or simply breed "Butch and Sally" together?
The national club set the standard for the breed. Standards are important as this keeps breeder focus on preserving the essence of what separates each breed. If size was not set and type was not specified then what is to stop the shiba from looking exactly like a smooth chow chow or vice versa. How would one stop the Manchester Terrier from looking like a Miniature Pinscher? When you see a shiba on TV or at a show, it is the size, coat, color and overall look that draws you to them, if breeders were not trying to preserve that then there would be no individuality and no individual breeds. With pure bred dogs, predicting size can be very important. With apartment size and town homes requiring limits, you do not want your dog to end up #50.
3) Are the puppies registered with the AKC (American Kennel Club)?
The AKC hold sanctioned shows to evaluate breeding stock. They have strict requirements to become an AKC champion. It takes money and a lot of time to complete the championship. In conjunction with the cost of health certifications, stud fees and the championship, this is why a quality puppy is priced as it is. There are MANY breeders just breeding for profit asking as much or more money for their puppies who are not champions or have health certifications and use only their own studs. They are simply marketing their puppies to fool you into thinking the quality is the same.
4) Are their puppies getting age appropriate vaccines?
A properly vaccinated dam will bare puppies with healthy immunity due to mother's milk. There is rarely a need to vaccinate a puppy before 6 weeks. This is the same for worming puppies. There should be no need to worm a puppy at 2, 4, 6 weeks, etc... If the mother and the enviroment was maintained properly the puppies should be realitively parasite free. A fecal (intestinal parasite exam) should be run at 6 weeks and preventative veterinary grade wormer can be used for extra assurance. Good breeders don't cut corners. Good breeders 100% have the best interest of the puppy in mind at all times.
5) Is the breeder asking questions about you? Is the breeder focused on a good home or the money?
A good breeder will want to know where the puppy is going to live. They will want to know if you are fully ready for a puppy, do you have a veterinarian, do you know of trainers, do you know the financial comment of owning a puppy. Will the breeder take the puppy back? These are great things to think about. Listen to the breeder. How much do they really know about the breed. I have seen breeders call sesame shibas, cinnamon or advertise rare colors which are truly mismarked puppies due to poor breeding practices. If the breeder does not care enough to breed correctly sized and colored shibas how much can they be focused on health?
I will continue to add more, this page can easily get very long! Bottom line, ask for paperwork to verify health checks. OFA (
http://www.offa.org/
) posts what certifications the dogs have, you only need either the paper name of the dog or their registration number, on the main page you can plug that information in then hit seach. If no results are found then that dog has NO certifications. If you have questions, please feel free to contact me.
Considering a Pet Shop, High Volume breeder or back yard breeder? Consider this......http://www.petshoppuppies.org/