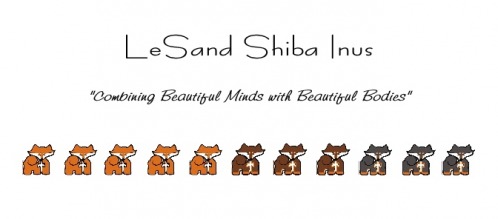 About Me

LeSand Shibas was established in 2002 with my first shiba Kyoshi; he is a darling red ball of fluff that stole my heart. If dogs can be human solemates then Kyoshi is mine. I have admired shibas since they were recognized in 1993 and now I am "Livin' my Dream".

My shibas are a major part of my life, they are family members first and show dogs second. My shibas are kennel trained for shows but are allowed free run when at home and even sleep on my bed. I pride myself on the exceptional temperaments of my shibas. I am a Veterinary Technician by profession and my dogs accompany me to work. I really don't think there is any better socialization than the constant clammer of a busy veterinary practice.

I have been involved with AKC conformation since the early 2000s. I am small hobby show kennel consisting of a few exceptional girls and an outstanding boy. I have been very successful in the show ring with Toukon, AKC Ch. Hi-Jinx Toukon, as he has multiple Non-Sporting group placements and has spent much time ranked of the best in this country. Besides shibas, i have shown Afghan Hounds, Borzoi and Lhasa Apsos.

I am a member of the National Shiba Club of America and have been since 2005. I am also a member of NIPPO, an elite registry in Japan focused solely on their 6 National Treasure breeds. LeSand Shiba Inus motto is "Combining Beautiful Minds with Beautiful Bodies" . I breed for temperament first, comformation second and type third. I am committed to breeding correct healthy shibas. I strongly adhere to the breeding ethics set forth by the National Shiba Club of America and I breed to the NIPPO standard (which is the basis for the AKC standard). I remain focused on perserving the Shiba Inu as it was bred in its country of origin, Japan. I do not take breeding lightly and produce quality rather than quanitity.

If you have questions about your shiba or shibas in general, I am a strong advocate for the breed and welcome all inquires.