LeSand Contract Information
Please feel free to contact me regarding any questions. Below are some documents regarding Shiba Inu information, puppy inquiry and contract (once approved as a prospective puppy buyer).

All these document are subject to change without notice. I will do my best to keep the documents as current as possible.

I adhere strictly to the ethics, by-laws and guidelines set forth by the National Shiba Club of America (NSCA). I breed for quality rather than quantity to meet the standard set by the NSCA based from the NIPPO standard in Japan. My studs are selected based on how they can improve my girls with the goal of breeding as close to the standard as possible. I can tell you specifically why I am using the chosen stud as I take breeding very seriously with the goal of furthering the quality at LeSand Shibas. I do not breed over and over to the same stud to simply supply puppies, please be careful and avoid these types of backyard and commercial breeders.
My adults are registered with the AKC (American Kennel Club). The AKC is the only US registry to fully support the sport of pure bred dogs by holding shows of merit, specialty shows and performance events. Any shiba registered with the AKC is eligible to be registered with ALL other registries, this is not true in reverse.

Pet pricing is based on age and sire ranging from $1500.00 to $2600.00 depending on pedigree.
puppies range $1800.00 to $2600.00
young adults range $1500.00 to $1800.00

Show quality puppies are considered on an individual basis. All puppies otherwise sold by LeSand Shibas is under strict spay/neuter agreement.

The prices above are not set unless a deposit is taken. I take deposits once pregnancy is confirmed. Deposits are 1/3 of the price and are non-refundable, remaining balance is due prior to receiving your puppy, via paypal (plus 3% paypal fee), cash or money order, no checks will be accepted for final payment unless received far enough in advanced to ensure coverage from the bank its drafted upon.
If interested, I highly encourage you to fill out my puppy questionnaire and once approved to place a deposit as there are often far fewer puppies available than there are interested parties. In the event there is not a puppy for you and you are approved, I will either put you on the next waiting list or refer you to another ethical breeder with my same breeding practices.

Please be sure to check my "Buyer Beware" link to the left, if you are considering a puppy from another kennel and you would like to know if they are of merit, please feel free to contact me.
Please be patient while the documents below load. If you are having trouble viewing these documents please contact me via email at :
LeSandShibas@yahoo.com
LeSand Shiba Inu Puppy Questionnaire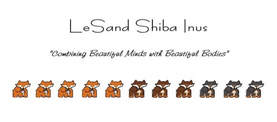 LeSand Shiba Inu Sample Contract
Thank You for stopping by!!!!